ShiraPlayer 1.8.6 Language Support
Details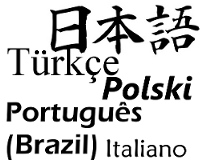 The ShiraPlayer has the support of six languages, now .
Japanese, Turkish, Portuguese (Brazil), Polish, Italian, Swedish ...
The 1.8.6 version also includes some bug fixes. You can download and test it.
New Flyby Planets Feature
Details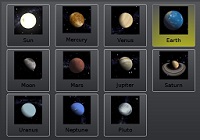 T
he ShiraPlayer 1.8.5 version has publised with new "Flyby over Planets feature". In this version you will be able to closely examine the planet, track over them. The altitude and velocity properties are made adjustable.
You will be able to visit all the planets of the solar system with more realistic simulation. Installation package includes some 4K planetary images. The Mars and earth model has simple atmosphere effect. The docking feature has been added to the controls of "Preview window". In addition some bugs reported by users are fixed.
.........
ShiraPlayer 1.8.0.0 bug fix & upgrade libraries version
Details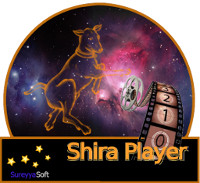 I
n this version many bugs are fixed. The Shira Player is based on Qt (Digia Company) libraries. Up to 1.8.0.0 version all ShiraPlayer versions used Qt 4.6.2 .Some problems were experienced on new operation systems (like windows 8.1) and on new display cards. These problems have been fixed after upgraded to Qt 5.3. 
Below list includes all fix and development with this upgrade.
.........
ShiraPlayer Console and 1.8.0.2 Desktop is published
Details
S
hiraPlayer Console software is developed for desktop applications of ShiraPlayer to manage from Android Tablet device. The console application will greatly simplify the planetarium presentations.
You can find all functions of ShiraPlayer desktop's control interface in Console application.
"ShiraPlayer Console" requires Intranet access to control desktop application. It uses simple TCP connection.It does not require internet access for normal usage. Internet access is only required initially to verify the license.
.........
Cosmos Planetarium, Scotland
Details
Cosmos planetarium is a state of the art, fully digital, 360° immersive multi-media theatre experience. Their 6 metre mobile planetarium can accommodate up to 40 children or 25 adults - no need for expensive transport costs as they come to you!
Now, Steven Gray from The Cosmos Planetarium is testing and using ShiraPlayer...