Vioso Gmbh Visited
Details
I visited projector mapping partner Vioso Gmbh company Dusseldorf Germany main office in March. Worked with Mr.Emanuel Zueger over calibration settings and some performance issues. They have test dome and screens with 12 projector single computer special hardware setup. It can do advanced benchmarking. ShiraPlayer and Shira Universe can work on this system in two different ways.
One of them uses only vioso calibration system for each projector outputs.

Second one uses Vioso Anyblend driver that merges 12 display output as one. It can be used as second monitor with 

classical Shira Player or Shira Universe single fisheye output projection.
I can say that the second way has more performance from the first.
Shira Player working on Vioso 12 projector test dome
Vioso Calibrator sample screen
Shira Universe 1.6 was published.
Details
Shira Universe is becoming more effective software for planetarium usages with space flight specification.
Featured properties in 1.6 version
With new script engine all properties can be controlled by scripts. Also working scripts can be paused and resumed with one-click. In downloadable file package, English and Japanese script helper files can be found.
More realistic planetarium view with planets, moon and high resolution colored milkyway textures
in landscape and spaceflight mode.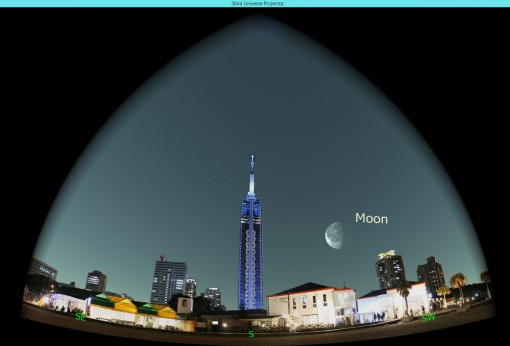 Night view Landscape support
It is possible to show single landscape by using Night & daylight view.
The file that has been produced by Osamu Kato includes two panoramic views of same landscape in daylight & night. Two views are blended with crosfade effect at sunrice and sunset times.
Z angle rotate feature has been added in landscape definition file.

Milkyway intensity slider to change mikyway density has been added.
| | |
| --- | --- |
| | |
| Night View Landscape. | Same Landscape with daylight view. |
Spanish language support has been added.

PJLink projector control feature has been added

Many bugs have been fixed

Reset all functions were missing, it was fixed.
Initial sky view has been changed to South direction. 
When other planets landed previous landscape shown, fixed.
Fixed keybord controls
and more.
  Download & License Information 
Shira Universe 1.5 has published.
Details
Shira Universe has Mitaka based sky generator and media presenter for fixed and mobile domes planateriums.
For privacy&policy information and download click here.
What is new and fixes since previous version
Flat image manager in Media Manager
The flat images are presented with this feature by free image browsing on computer.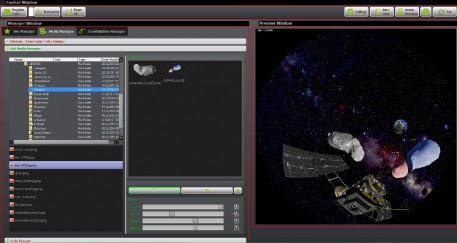 Enhanced Constellations manager
Single constellation art, line or boundary selection manager or seasonal group selection capability.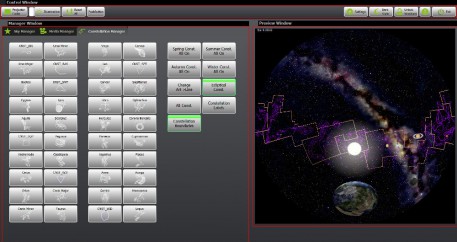 Altair LLC visited to headquarter
Details
Japan distrubutor Altair LLC company's CEO Mr.Osamu Kato has visited Sureyyasoft at headoffice in Bursa Turkey on February.
We have worked together on Shira softwares series' future. We have decided to make many developments on Shira Universe.
Thanks to Mr.Osamu Kato for his kind visit.
Mr. Osamu Kato blog page link about Turkey visit.
http://planetarium.sakura.ne.jp/kato/?cat=8
Shira Universe Promotional Video
Details
This video is prepared by Osamu Kato (AltairLLC)