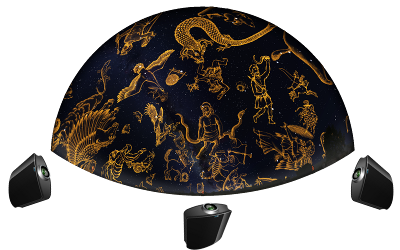 A
s is known, the ShiraPlayer is based Stellarium opensource software. Until recently, it was used for one projector systems that includes one fisheye lens projector or
normal projector with spherical mirror systems. After this, multiprojector system software developers will be able to adapt their systems to ShiraPlayer. To do this, I have developed plug-in projector class. May be find header class files in source codes who want to develop for multiprojector systems a plugin dll. This features can be used up to 1.8.9 versions.
Source link.
Initially, I have developed plugin for one computer includes multiprojector systems.  Thanks to this plugin, users can projected ShiraPlayer to their dome with one more projector on same computer. That needs special warp and blend files. This files is found in ShiraPlayer main directory after install Shira MultiProjector plugin.
Plugin download Link
Also,after install plugin you can find "Projector Settings" item on right click menu.
Sample Projector Settings screenshoot.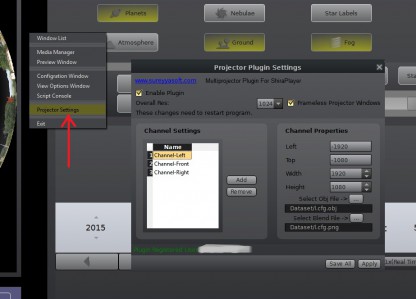 License Policy.
This plugin needs commerical license. You can download and test it. If you want to use without watermark please contact to us.