New Shira User Guide is prepared.

Thanks to Peter Ihnat's effort who works at Wollongong University and supports the Science Centre & Planetarium Wollongong AUSTRALIA as volunteer.
To download new user guide as pdf format click here.
ShiraPlayer 1.4.5 is published
New features:
Preview Window : Design dome display before see by audience. You can see preview dome view before show over projector. All items can be designed on control screen after click "Apply" button display on dome screen.

Save&Load Flat Presentation feature: You can save your flat presentation items on a xml file. After load file without design again
Shira Player for Non-technical and Non-professional Users
Shira Player ver 1.6.0.0 for Non-technical and Non-professional Users is published.Registered user Jim Havens has advised to design a interface for "Non-technical and Non-professional Users". According to these recommendations has been added new properties to control window.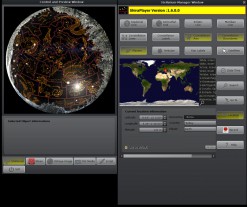 .........
Shira Player 1.4.0
Now it is easy to show flat movies and images presentation on dome as warped with "Flat Media Presentation" specification of Shira Player.
Key innovations:
To present more than one flat movies and images on dome 
Capability of adjusting color specification of flat videos on dome. 
To decode enough media format.
to recognize image formats: jpg,png,bmp 
to recognize video formats: avi,mpeg,mpg,mp4,wmv,mov,flv,vob (using ffmpeg codec)
 Resize and Rotate media
 Declination and Right Angle adjustment
 Presenting media On Dome/On Sky properties