ShiraPlayer 1.4.6.3 minor version
New features and fixed bugs: 
"InitView", "initFov", "auto_zoom_out_resets_direction" values are no longer available in config file. Now ShiraPlayer starts at 180 degree fov and fix view direction for planetarium users. After any object zoom-out return to initial view.
"\" "/" keyboard functions ( autoZoomOut autoZoomIn ) are fixed. After auto zooming domeview locates to initial view.
While using search dialog, NGC objects and satellites could not be select. This bug is fixed.
After click anywhere outside the preview window was unfocused. Now to click on preview window anywhere is again provided to focus on it.
.........
ShiraPlayer 1.4.6 bugs fixed version
New features and fixed bugs: 
Below shortkey operations are fixed while pressing key on "Preview Window". 

These bugs was found by Kenneth Miller and Jim Havens. 

After search an object on "Search Dialog", cursor is focused to "Preview window"

Show selected object information on "Preview Window"
New Shira User Guide is prepared.

Thanks to Peter Ihnat's effort who works at Wollongong University and supports the Science Centre & Planetarium Wollongong AUSTRALIA as volunteer.
To download new user guide as pdf format click here.
Etna Planetarium Sicily,Italy.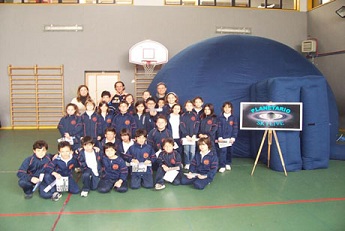 John Verga who is responsible Vulcano (Etna) museum in Sicily Italy. (http://www.etnaplanetarium.com)
He has got 5 meter inflatable dome used a spheric mirror and Mitsubishi full HD projector.
He has choosen ShiraPlayer becuse of spherical projection feature without problems. 
Also he has used spherical parameter with "texture_triangle_base_length=4" for best result.
ShiraPlayer 1.4.5 is published
New features:
Preview Window : Design dome display before see by audience. You can see preview dome view before show over projector. All items can be designed on control screen after click "Apply" button display on dome screen.

Save&Load Flat Presentation feature: You can save your flat presentation items on a xml file. After load file without design again